3D Animation Course in Hindi by AnimFX (Gaurav Bhatt)
(4.9) Reviews
1999 12000 (83% Off)
578

Student Empowered

72

Videos

Online

Format

Till Lifetime

Validity

Unlimited

No. of Views
Program
Overview
Key Highlights

I have created this Powerful course with just one goal in mind - that is to make you a Blender Pro Artist.
When you complete this Course You'll be able to get a job and Freelance as 3D Artist.
Here is what you get when you enroll in the course Right Now:-
Blender Tutorial Videos in Hindi
More than 800 minutes of Blender Tutorial Videos in Hindi. Brand New Blender Tutorial videos upload per week for the next 100 days directly in your course.
Lifetime Access
Lifetime access to all the videos.
Take This Course And Get 2 Bonus
Get with 2 Digital E-Books (1) Guidelines to become a 3d modeling Artist (2) 12 Principles of Animation, Both books in Hindi.
After this course, you can able to make this type of youtube channel like - MAKE JOKE OF, MSG Toons and Moral Stories.
We covered step by step process for making 3d animation videos for your youtube channel and your showreel.
KEY STRATEGIES COVERED IN THE COURSE
3D Modeling, Materials, Texturing, Lighting, 3d Character Modeling,
Rigging, 3D Animation, Particles, Physics Simulation, Eevee Rendering
Cycle Rendering, Useful Addons
Are You Ready to Become A Superstar Blender 3d Artist?
Join This Course And Start Your Journey
Beginner Level To Advance Level
Course Content
BLENDER EXPERT COURSE INTRO
BONUS E-BOOKS
E-Book for Become a 3D Modeling Artist

E-Book for 12 Animation Principles
GET TO KNOW BLENDER
Why should we learn animation?

Download- Blender latest version

Blender Interface

Chair Modeling

Cake Modeling

Material and Lighting

UV Unwrapping Matchbox Texture

3D Mug Modeling & Material

Curve Modeling- Logo Modeling

Decorative corbels modeling with curve

Pipeline modeling with Curves

Water Glass Modeling with Material

Basket Modeling- Tissue Add-ons

Corona virus 3D Modeling
BLENDER PROJECT BASED TUTORIALS
Introduction & Base part Modeling

Building no-1 Modeling & Material

Building no-2 Modeling Part- 1

Building no-2 Modeling Part- 2

Building no-3 Modeling

Building no-4 Modeling

Building no-4 Edit & Shop Modeling

Car Modeling Part- 1

Car Modeling Part- 2

Car Modeling Part- 3

Street light & Street chair Modeling with Material

Props Modeling

Road tunnel, Chimney, Solar panel Modeling & Material

Tree Modeling Using Skin Modifier

Texture mapping

Rendering Setting
MAKING ANIMATED SHORT FILM AND YOUTUBE VIDEOS
Animation Production Pipeline

Before Per-Production

MJO Character Face Modeling

MJO Character Body Modeling

Cloth Material Apply

Cloth UV Texturing

Pent Cloth Modeling

Rigging

Boys School Dress and Character Duplication

Mastar ji Character Modeling

Lady character

Character weight paint

Classroom Modeling

Classroom Furniture

Classroom Furniture and Characters Setup

Masterji Walk Cycle Part 1

Masterji Walk Cycle part 2

Masterji Walk Along The Path

Auto lips sync and audio recording

Face Expression

Auto Lips Sync Multiple Characters

Face Expression and Lips sync

Auto lips sync with Animation Nodes

Multiple Cameras Switching
HOW TO MAKE ANIMATION
Animation Guide for Beginner (Dope Sheet)

Class 02 Ball Bouncing Animation
LOW POLY CHARACTER VIDEO SERIES
Make Human with Blender

Low Poly Girl Modeling Part-1

Low Poly Girl Modeling Part-2

Girl Head Hair Part-3

Low Poly Girl Hands Part-4

Low Poly Legs Clothing Part-5

Low Poly Face details Part-6

Realistic Character lips Pose

Realistic Character auto lips-sync with Papagayo

Character Walk Cycle
PHYSICS SIMULATION & PARTICLES
About Instructor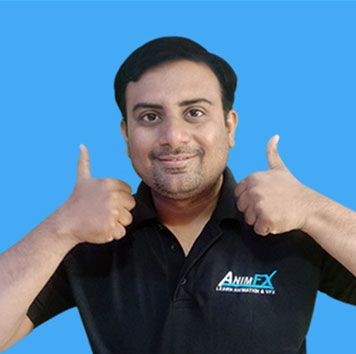 Gaurav Bhatt
Hey There, I am Gaurav Bhatt. I am Founder of AnimFX. AnimFX is a Animation and vfx Online learning platform. I have a YouTube channel as well where I produce videos about Animation and VFX. I have trained thousands of students through my Videos.
If you have any doubts about how to get and access this course,watch this video.
Student's Feedback
{{ feedback_data.time }}
{{ feedback_data.name }}
{{ feedback_data.message }}